EMS – Environment Monitoring System
Technical Specifications
>> Advanced monitoring
EMS (Environment Monitoring System) is an intelligent monitoring system that combines PDU proprietary SW technology with SNMP-based monitoring, PDU sensors and modular structure developed by CLEVER to monitor the environmental and electrical parameters collected From PDUs in metered version in micro-environments (cabinet or cabinet series, up to a datacenter).
>> Scalability
By means of the HUB accessory, the system can consist of a master device connected in daisy chain with another 11 slave devices
EMS – Environment Monitoring System
---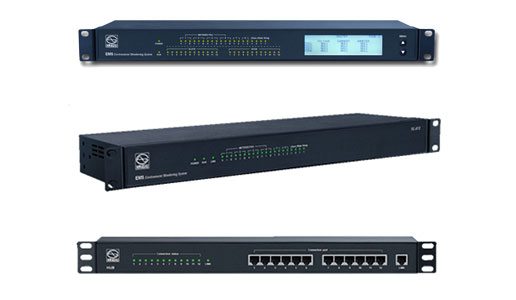 Configuration type: master, slave, HUB.
Remote monitoring system on a single rack closet.
Base configuration in a cabinet: Maximum 4 PDUs, 2 T / H sensors, 2 door sensors, 1 Smog sensor and 1 water detection sensor.
Monitoring system: input voltage, charging current and current consumption.
We design and build our products to achieve your best business goals